Do you feel like a holiday with a simple but attractive overnight stay? Or do you want a solid roof above your head after days in a tent? Halvorseth offers you the perfect accommodation for this. There are four summer cabins spread out over the small-scale campsite. These are different in size but offer exactly what you need for the night.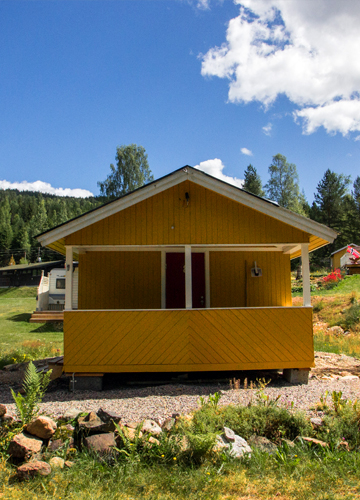 The summer cabins offer exactly what you needed for the night. A bed, fridge and electric cooker. All facilities are within walking distance of your summer cabin. A clean toilet block with shower, dishes and cooking space. A place to change your baby's nappy and a laundry room is also available. Playground equipment is available for children.
The summer cabins don't have their own toilet and shower. For this you also use the sanitary building. Here you also get your water.
"

Exactly what we needed. After the crossing by boat it was not even far anymore.

With a rippling river just in front of the porch, this was a good preview of what Norway would bring us.
Good value for money.

"

Ronald – Nederland

"

After our motorcycle trip through Norway it was wonderful to be here the last evening.

Compared to other accommodations we had on our trip, this was very good. It was clean and decorated with care. The sanitary building was not far away.

"

Stefan – Germany